//NOTE: KEEP MOBILE PADDING SHOULD BE DONE PER SUB SECTION IN THIS COLUMN ?>
Chestertown Weekend Baltimore Bicycling Club
Date: Friday, May 27, through Monday, May 30
Time: All Day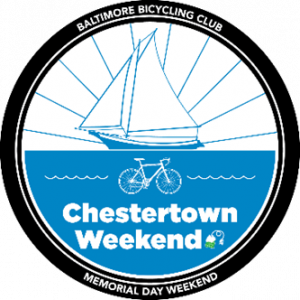 Join fellow bicyclists for the Baltimore Bicycling Club's Memorial Day weekend event (May 27th – 30th, 2022). Enjoy riding along flat to rolling terrain on the scenic roads of Kent County Maryland with beautiful waterfront views.
4 days and 3 nights of bicycling in Chestertown, Maryland. We're staying in the dorms of Washington College and eating breakfast and dinner in the dining hall. Rides distance range from 10 miles to 100 miles. This is a fun, non-competitive event. Chestertown will vendors in the streets, and re-enactments of the actual dumping British tea into the Chesapeake Bay.
Rides for all levels and abilities from 10 to 100 miles
Includes lodging at Washington College
Excellent Cuisine –All meals provided from Friday dinner to Monday brunch
(except for Saturday lunch)
Enjoy the Chestertown Annual Tea Party Festival
Social Events every evening
3-day option available
Discounts available if register early
Plenty of fun for non-riders too!
https://www.baltobikeclub.org/images/stories/PDF/Chestertown_2022_registration_instructions_2.pdf