//NOTE: KEEP MOBILE PADDING SHOULD BE DONE PER SUB SECTION IN THIS COLUMN ?>
Block Party on the Bridge
Date: Saturday, June 4
Time: 11:00am - 3:00pm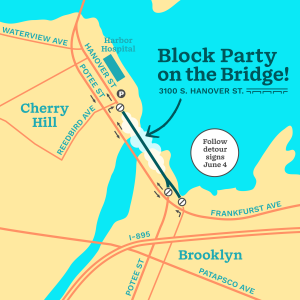 Reimagine Middle Branch presents Block Party on the Bridge!
Saturday, June 4, 11am – 3pm
3100 S. Hanover Street, South of Harbor Hospital
This FREE event is an opportunity to check out preliminary designs for improved bike/ped connections in the Middle Branch area of Baltimore City.
The "little" Hanover Street Bridge between Cherry Hill and Brooklyn will be closed for a pop-up bike trail demonstration and a block party with food, music, and fun activities for all.